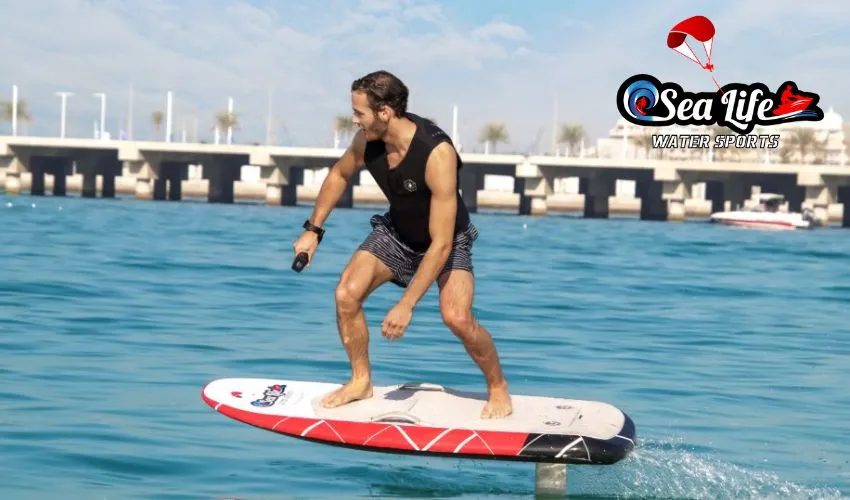 An eFoil is a type of electric hydrofoil board that allows riders to glide above the water's surface using a hydrofoil and an electric motor. It's a relatively new water sport that has gained popularity in recent years.
The eFoil board consists of a surfboard-like deck with a hydrofoil attached to the bottom. The hydrofoil is a wing-shaped structure that extends below the board into the water. It creates lift when the board is moving forward, allowing the rider to lift up out of the water and glide above the surface.
The electric motor is mounted on the hydrofoil and is controlled by a handheld remote. The rider can adjust the speed and direction of the board by using the remote, which controls the motor's power output.
The eFoil board can be used for a variety of water sports, including surfing, kiteboarding, and wakeboarding. It's a fun and exciting way to explore the water and can be enjoyed by people of all skill levels.
One of the benefits of using an eFoil board is that it's powered by electricity, which makes it a more environmentally friendly option compared to traditional water sports equipment that requires gasoline or other fossil fuels.
Glide across the beautiful Dubai water on your eFoil:
eFoil rental in Dubai is a great way to experience the thrill of gliding across the water on an electric hydrofoil board. The eFoil board is a revolutionary watercraft that uses a high-speed electric motor to power a hydrofoil blade beneath the board, lifting the rider out of the water and providing a unique and exciting way to explore Dubai's beautiful waterways.
Dubai is a fascinating city to explore, and riding an efoil provides a unique way to experience its stunning scenery and impressive architecture from the water. Here are some of the top sights to see while riding an electric foil in Dubai:
Burj Al Arab: This iconic sail-shaped building is one of Dubai's most famous landmarks. It looks particularly impressive from the water, and you can get close enough on your efoil to take some amazing photos.
The Palm Jumeirah: This man-made island is shaped like a palm tree and is home to some of Dubai's most luxurious hotels and resorts. Riding your efoil around the edge of the island will give you a unique perspective on this impressive feat of engineering.
Dubai Marina: This bustling marina is home to some of Dubai's most impressive yachts and boats. Riding your efoil through the marina will give you a chance to admire these beautiful vessels up close.
Before considering an eFoil board rental in Dubai, it's important to make sure that you have the necessary skills and experience to safely operate the board. Most rental companies will require that riders have some experience with water sports, such as wakeboarding or surfing, before renting an eFoil board in Dubai.
Read more : https://www.sealifedubai.com/gliding-above-the-waves-the-ultimate-efoil-surfboarding-experience-in-dubai/