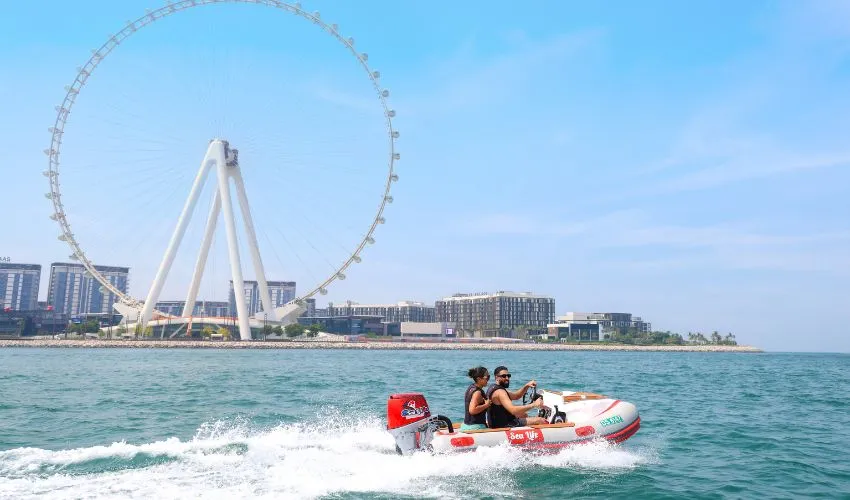 Are you in Dubai for your vacation or planning to be there this winter during the Christmas holiday? If you are, then you've come to the perfect place to plan your days filled with fun, adventure, and excitement. Dubai is often associated with a luxurious lifestyle, iconic skyscrapers reaching for the sky, and being a haven for shopaholics. However, at Sea Life Watersports, we believe that water sports have also emerged as an adventurous and exciting activity to enjoy in Dubai. We make it possible for you to experience self-drive boat riding in the pristine waters of the Arabian Gulf and have a fun-filled, adventurous, and exciting day. Today, we will guide you through the entire process of enjoying this exhilarating activity in Dubai.
What is self-drive boat riding in Dubai? 
You may be wondering what we mean by self-drive boat riding. Generally, when you ride a speedboat a trained and professional captain drives the boat and you ride as a passenger. However, when you rent a self-drive boat from us, you actually drive the speedboat. Our captain and trained crew will be following you to tackle any untoward incidents. Before the drive, our professional captain will train you how to drive and control a speedboat. Having such training you can drive safely and enjoy.
Reasons for the popularity of self-drive boat rides as water sports in Dubai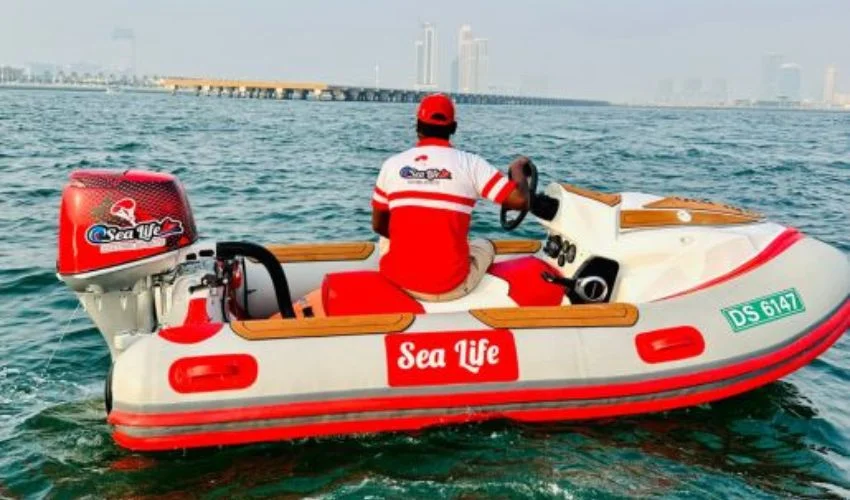 We all know how adventurous and exciting water spots can be. Self-drive boat ride has a special place in the plethora of water sports. It is one of the water sports where you have total control over the speed, stoppages and other activities. No one but you will be on the boat and drive it according to your desire. It is one of the exclusive water sports allowing you to be the captain of your boat. In other words, you can control the level of adventure, excitement and fun that you will have during the ride. Moreover, you can view Dubai's iconic landmarks in the most exhilarating way.
The experience possible to have at iconic locations in Dubai
When riding a speedboat, you'll be treated to a panoramic view of Dubai's most iconic landmarks. Moreover, if you wish, it's also possible to visit these renowned spots such as the Palm Jumeirah, Atlantis the Palm, and the Burj Al Arab. Share with us the experiences you'd like to have while cruising past these incredible landmarks.
With us, you can embark on an exhilarating ride and relish the iconic vista of Palm Jumeirah. Take a moment for a photoshoot in front of the Atlantis as well. You can also opt to navigate around the Palm and enjoy its splendor.
Furthermore, renting a self-drive boat from us allows you to savor a panoramic view of the Burj Al Arab while on the water.
How to book a self-drive boat ride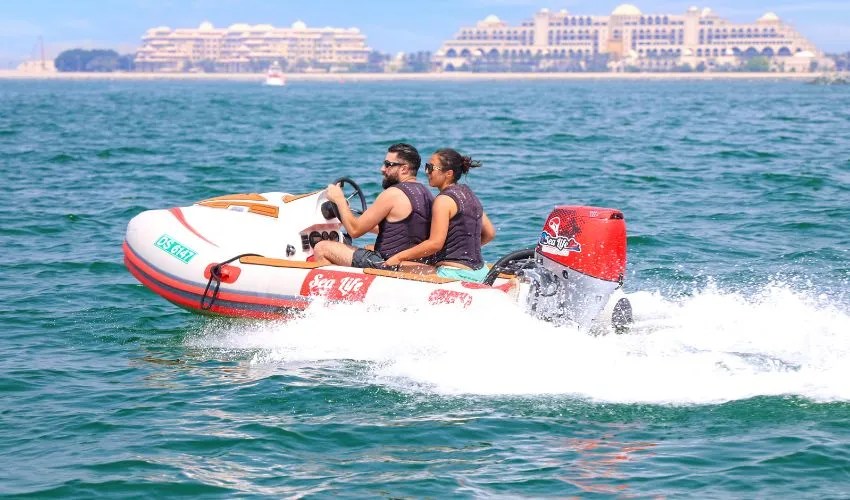 Let us know how you can book a self-drive boat ride from us. The ideal way to secure your ride is by giving us a call or sending a text to +971 50-433-2725 . Alternatively, you can leave your phone number and email by send a inquiry now, and we will promptly get in touch with you within 30 seconds. You can also stay updated on our latest offers by subscribing and providing your name and email address.
Once you've chosen the package you'd like to book, we offer various payment methods, including Visa, MasterCard, and American Express. You can also make payments using G Pay. Additionally, we happily accept walk-in bookings, subject to availability.
The self-drive boat tour packages of ours
Our self-drive boat tour packages offer you a choice of four distinct options. Each package varies in terms of the duration of your ride and the associated cost.
For a 30-minute ride for two persons, the price is 400 AED. If you prefer a 60-minute adventure, the cost is 650 AED. Opting for a 90-minute excursion will be priced at 800 AED, while a 120-minute journey comes at a cost of 950 AED. You can select a package based on your budget and the amount of time you wish to enjoy this thrilling and adventurous experience.
We frequently provide discounts of up to 40%. We encourage you to contact us for information on these discounts and to stay updated on any new offerings.
It's important to note that, as a reputable and licensed water sports rental organization in Dubai, regardless of the tour package you select, you can expect to receive the same high standard of services and equipment.
Where in Dubai can you enjoy self-drive boat riding?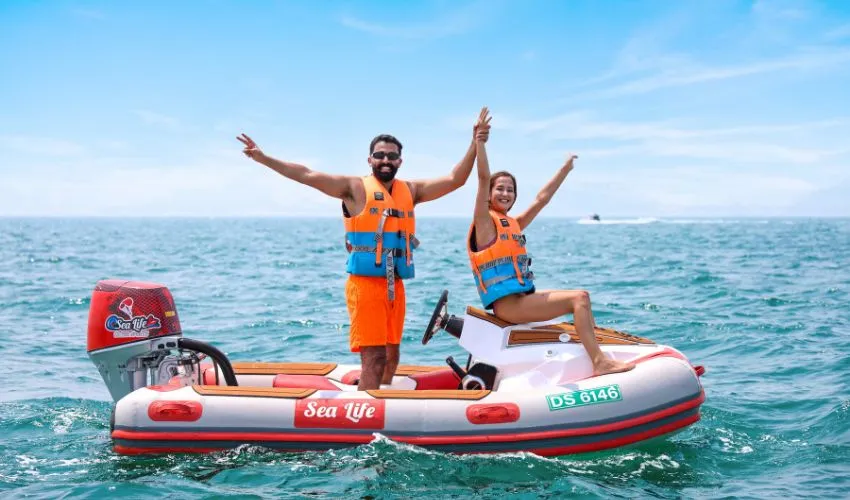 We are present at Dubai Marina and JBR. It will be possible to start your self-drive boat tour from any of the two destinations.
What to expect from booking a self-drive boat tour package from us 
You might be curious about what you can expect when booking our package. With us, you'll have access to state-of-the-art self-drive boats and receive an inflatable safety vest. But that's not all. Our expert team will provide you with a 30-minute briefing to ensure your safe and enjoyable boat ride experience. Our briefing is so comprehensive that you don't need any prior boating experience to enjoy a boat ride in Dubai.
Few facts to know before enjoying self-drive boat ride with us
 The activity is entirely weather-dependent, including the stops we make.
A boat license is not required to self-drive a boat. However, you must be over 18 years old to have permission to drive; if you are below 18 but above 6 years of age, you can be a passenger.
We recommend arriving at the starting point 15 minutes before the scheduled boat ride time. Unfortunately, our guides cannot wait if you are late due to time constraints.
If you are pregnant, it is advisable not to attempt this adventurous water sport.
There's no requirement to have a certain number of people for a self-drive boat ride in Dubai. We make it possible for you to enjoy the ride even if you are traveling alone.
The boats we provide can reach speeds of up to 60 km/hr.
You are welcome to bring a still camera; however, we suggest using a waterproof version.
We have discussed how to book our self-drive boat ride packages. It is also possible to request a free cancellation if you do so at least 24 hours before the scheduled ride time.
What makes Sea Life Watersports the best choice for self-drive riding?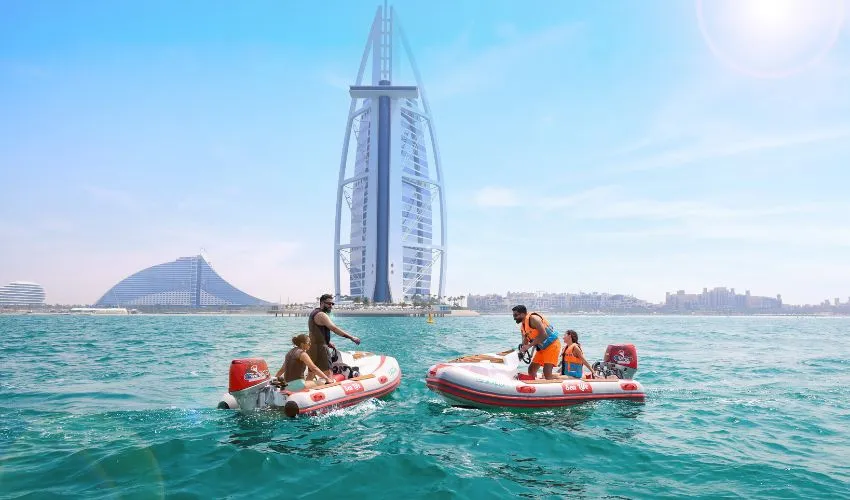 There are many water sports rental organizations in Dubai. However, we are the ones depended on by most travellers and residents of Dubai. We are a licensed and reputable water sports rental organization having eight years of experience in offering various types of water sports. All our water sports equipment including the speedboats is well maintained. Our captains and crewmembers are professional and trained. Moreover, we follow all safety norms making it possible for our clients to enjoy water sports safely. Our prices are affordable and you can expect to have personal services from us. So, when you are in Dubai do contact us and we will make it possible for you to enjoy the best of self-drive boat ride or any other water sports and guide you to the iconic landmarks. We have been associated with renting the best quality water sports equipment and arranging for adventurous and exciting water sports activities. If you are with us, you can have a full return on the money you spend.
Must Read : https://www.sealifedubai.com/discover-dubais-stunning-seascapes-with-self-drive-boating/
Related Post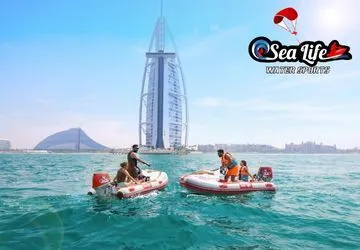 Dubai, the epitome of luxury and adventure, is renowned for its breathtaking skyscrapers, expansive deserts, and prist...
Read More
Are you ready for an exhilarating and unique adventure in the heart of Dubai? If you're seeking an unforgettable exper...
Read More