Are you ready for an exhilarating and unique adventure in the heart of Dubai? If you're seeking an unforgettable experience on the water that allows you to be the master of your own ship, self-drive boating in Dubai might be just the thrilling escapade you're looking for. Imagine cruising along the stunning coastline of Dubai, feeling the wind in your hair, and basking in the warm sun as you navigate your own boat through the azure waters of the Arabian Gulf. In this blog, we'll delve into the world of self-drive boating, what it is, how it works, and why it's an absolute must-try experience in the city of superlatives.
What is Self-Drive Boating?
Self-drive boating, also known as self-piloted or self-captained boating, is a recreational activity that allows individuals to rent and operate their own boats, without the need for a professional captain or crew. In Dubai, this means you and a companion can embark on a personal aquatic adventure in a boat designed for two people.
How It Works with Sea Life Dubai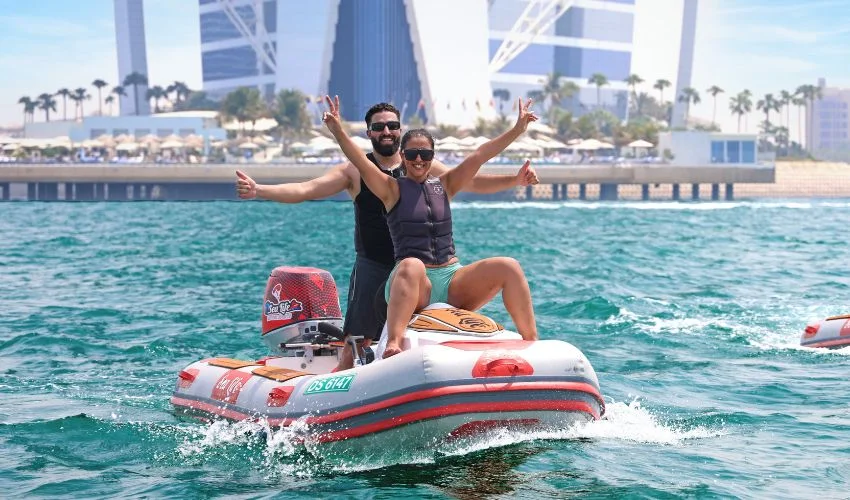 Self-drive boating in Dubai is incredibly accessible and easy to get started. Here's how it works:
Booking Your Experience:
Visit the Sea Life Dubai website www.sealifedubai.com or Call/WhatsApp +971504332725 to book your self-drive boating adventure.
Choose your preferred date and time. It's advisable to book in advance, especially during peak tourist seasons.
Arrival and Greeting:
Arrive at the Sea Life Dubai location at 15 minutes before your chosen time.
You'll be welcomed by the friendly staff, who will guide you through the next steps.
Safety and Operation Briefing:
Safety always comes first. Sea Life Dubai provides a thorough safety briefing that covers the basics of operating the boat, navigation, and important safety guidelines.
Don't worry if you're not an experienced boater; the Sea Life Dubai team ensures you're well-prepared.
Selecting Your Route:
Dubai's coastline is adorned with iconic landmarks, from the Palm Jumeirah to Burj Al Arab. You have the freedom to chart your route.
Sea Life Dubai provides maps and recommendations, helping you plan your route to make the most of your adventure.
Captain Your Own Boat:
Once you're briefed and ready, it's time to step aboard your self-drive boat and captain your boat adventure! You and your companion will have complete control over the boat as you explore the Dubai coastline at your own pace.
Feel the thrill of navigating the waters, stopping at picturesque spots for photos, or even anchoring for a swim.
Return and Share Your Experience:
After your allotted rental time, return to Sea Life Dubai's dock.
Share your memorable moments and experiences with the friendly staff, who are eager to hear about your adventure.
Why Self-Drive Boating with Sea Life Dubai?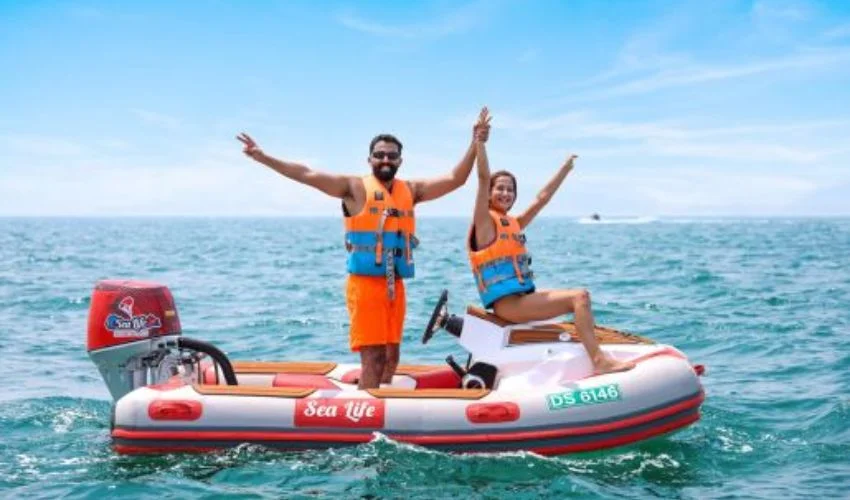 Now that you know what self-drive boating is and how it works, let's explore why Sea Life Dubai is the perfect choice:
1. Freedom and Independence

Self-drive boating allows you the freedom to explore Dubai's stunning coastline at your own pace. You're not tied to a predefined route or schedule, so you can tailor your adventure to your preferences.
2. Privacy and Intimacy
With a boat designed for two people, self-drive boating is the perfect choice for couples, friends, or anyone looking for an intimate experience on the water. Enjoy quality time together in a secluded and picturesque setting.
3. Unique Perspectives

Sea Life Dubai provides a unique perspective of Dubai's landmarks and skyline. You'll have the opportunity to see iconic structures like the Burj Khalifa, Atlantis The Palm, and the Dubai Marina from a completely different angle.
4. Adrenaline Rush
If you're an adrenaline junkie, the thrill of operating your own boat on the open water is an experience like no other. It's an adventure that combines excitement with the serenity of the sea.
5. Memorable Moments
The memories you create while self-drive boating in Dubai with Sea Life Dubai are sure to last a lifetime. Capture breathtaking photos, enjoy the serenity of the ocean, and revel in the joy of piloting your own vessel.
In conclusion, self-drive boating with Sea Life Dubai is a remarkable way to explore Dubai's stunning coastline and landmarks. With Sea Life Dubai, you have the chance to be the captain of your own adventure, creating unforgettable moments with your companion. So, if you're ready to set sail on a thrilling aquatic journey, Sea Life Dubai is your gateway to an extraordinary experience in the heart of Dubai. Don't miss the opportunity to captain your own adventure!
Suggested Read: https://www.sealifedubai.com/dubai-aquatic-adventures-self-drive-boat-rentals-for-the-ultimate-marine-excursion/
Related Post
Are you in Dubai for your vacation or planning to be there this winter during the Christmas holi...
Read More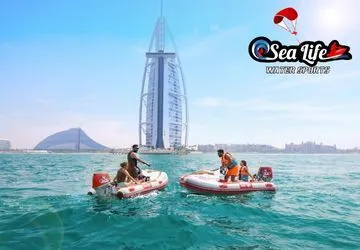 Dubai, the epitome of luxury and adventure, is renowned for its breathtaking skyscrapers, expansive deserts, and prist...
Read More