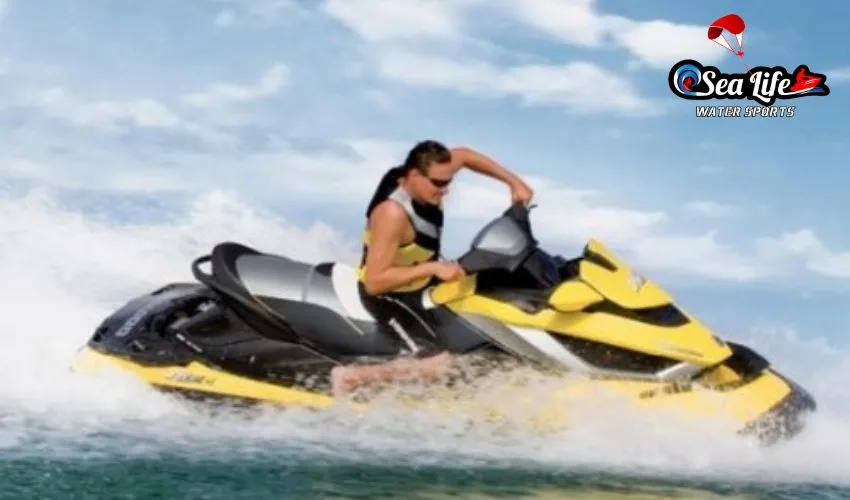 Dubai is a vibrant city known for its breathtaking tourist attractions, high-end shopping avenues, lively nightlife, and captivating beaches. In Dubai, numerous water activities are available, such as jet skiing. If you're looking for an exciting water adventure while on vacation in Dubai, consider going on a thrilling jet ski ride. Feel the rush of adrenaline as you slice through the waves of the breathtaking Arabian Sea! Discover nearby areas only accessible by watercraft and take in Dubai's iconic skyline from the sea. A jet ski ride tour in Dubai will undoubtedly add to the excitement of your Dubai visit!
Why Should You Experience a Jet Ski Ride Tour?
It's one of the most thrilling yet safe ways to experience Dubai's magnificent waters and the incredible landmarks surrounding it.
It is suitable for all ages (over 10), so bring your family and children for this exciting water adventure.
An expert crew will provide you with a safety briefing and assist you throughout the activity.
You can ride the Dubai Jet Ski alone or with friends or one of our experts.
This water adventure does not require you to be a pro. Even inexperienced riders can board our cutting-edge, easy-to-maneuver Jet Ski dubai.
Things to consider before booking your JetSki tour
You must bring your original passport or Emirates ID to the counter.
Transfers will be provided from Dubai's centrally located hotels and residences.
This activity is only open to people over the age of 18.
You must bring your costumes and towels.
Swim or tread water ability is required for all participants.
There is no prior experience required.
Best Places to JetSki in Dubai
Dubai is a coastal city with numerous beautiful beaches ideal for a dubai jet ski adventure. However, before embarking on this high-speed coastal adventure, jet ski owners must register their vehicles with the RTA Marina Agency. Let's take a look at the best jet ski beaches in Dubai.
THE LA MER BEACH
If you want to choose a beach in Dubai for adrenaline-pumping water sports, La Mer beach should be on your list. Meraas developed and operated this beach, which is popular for its Instagram-friendly backdrop. La Mer has other entertainment options besides an exquisite beach to jet ski tour in Dubai. La Mer Beach has a plethora of trendy restaurants and countless retail stores.
JET SKI AT THE JBR PUBLIC BEACH
In Dubai, JBR Beach is a popular spot for jet skiing. Those living in Jumeirah Beach Residence will be familiar with this popular beach, which has some coolest cafes and retail outlets.
JET SKI IN DUBAI AT MAMZAR BEACH PARK
Al Mamzar Beach Park is ideal for relaxing with family and friends. The beach park is located in Deira and spans 106 hectares. In addition to skating, swimming, and other activities, Al Mamzar Beach Park offers jet skiing.
JET SKI RIDE IN DUBAI AT UMM SUQEIM FISHING HARBOR
Umm Suqeim Fishing Harbor is an excellent location in Dubai for jet skiing. If you don't have a licensed jet ski, you can participate in the cheap jet ski sessions offered by a licensed tour company at Umm Suqeim Fishing Harbor. Sea Life Dubai is authorized to provide jet ski tours and rides in the area. On your jet ski ride, you can see some amazing Dubai landmarks and iconic structures, such as the Burj Al Arab, Atlantis, Palm Jumeirah, and JBR.
THE DUBAI MARINA
Without mentioning Dubai Marina, the best places to jet ski tour in Dubai would be incomplete. Take a jet ski tour across Dubai Marina with an experienced instructor to see the city's iconic landmarks in a new light.
Conclusion
Don't miss out on this once-in-a-lifetime city tour from the sea. You can speed across the Persian Gulf and explore Dubai for as long as you want with this thrilling Jet Ski adventure with Sea Life Dubai, with three experience durations to choose from 30 minutes, 1 hour, and 2 hours. Book Now!
Explore More: https://www.sealifedubai.com/jet-skiing-in-dubai-a-must-try-experience-with-sea-life-dubai/