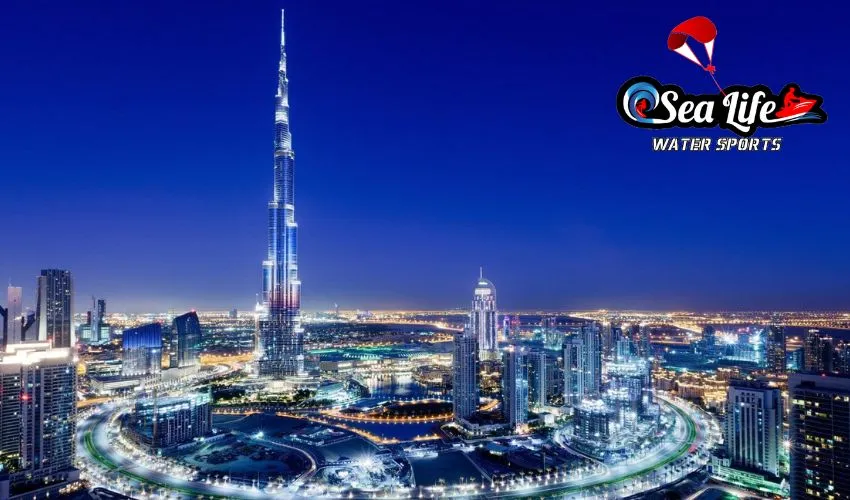 Dubai has established itself as a center of innovation, luxury, and entertainment. It still draws visitors from all over the globe with its latest and forthcoming tourist hotspots. Dubai boasts many attractions, from awe-inspiring architecture to thrilling theme parks. The city's dedication to breaking boundaries has resulted in the development of some genuinely impressive attractions that will astonish and motivate visitors. Whether you're a first-time traveler or a frequent visitor, you will want to experience Dubai's newest and upcoming tourist attractions, which are sure to make a lasting impact. Let's take a look at some of the city's most magnificent attractions that will leave a lasting impression on anyone who visits.
The Museum of the Future:
The Museum of the Future displays cutting-edge technologies and innovations worldwide. The building's architecture is both sustainable and futuristic, making it a masterpiece in its own right. It's an opportunity to get a glimpse into what the future has in store.  For tech-savvy adventurers, a visit to this museum is a must. Here you can immerse yourself in the latest advancements in AI and other emerging technologies through interactive exhibits that showcase today's possibilities. And for those looking for even more insights, workshops, talks, and events are hosted regularly – offering valuable networking opportunities with fellow technology enthusiasts.
The Dubai Frame:
The Dubai Frame in Zabeel Park is a towering structure that stands 150 meters tall and provides a breathtaking panoramic view of the city's old and new neighborhoods. At the top, a glass bridge offers a thrilling experience for visitors. If you want to capture stunning views of Dubai, the Dubai Frame is an attraction you shouldn't miss. The illustrious structure now also features state-of-the-art virtual reality technology that allows visitors to take a breathtaking journey across time. From witnessing early settlements along creek waters to soaring skyscrapers- be prepared for an extremely immersive experience powered by advanced technology that showcases how far this Emirati metropolis has come into being one of the world's most modern cities today!
The View at The Palm:
The View at The Palm is a recently opened observation deck that can be found at the top of the Palm Tower in Palm Jumeirah, Dubai. This captivating attraction allows visitors to admire breathtaking panoramic views of Dubai's skyline and the Persian Gulf. Situated on the 52nd floor, the observation deck rises to 240 meters. With a 360-degree viewing platform, guests can marvel at stunning views of Dubai's iconic landmarks, such as Burj Khalifa, Burj Al Arab, and Dubai Marina. Additionally, visitors can experience a one-of-a-kind interactive adventure using advanced augmented reality telescopes.
Dubai Harbour:
Dubai Harbor is a popular destination for tourists visiting the city of Dubai. Located in the heart of Dubai's waterfront, adjacent to Palm Jumeirah and Dubai Marina Covering a remarkable 20 million square feet, the development aims to provide guests with an opulent and immersive experience. The harbor offers a wide range of activities for visitors to enjoy, from watersports to luxury yacht cruises.
At Dubai Harbor, you can rent a Luxury Boat Ride or an Efoil ride and explore the crystal-clear waters, or try your hand at wakeboarding or flyboarding. For a more relaxing experience, take a sunset cruise on a luxury yacht rental and enjoy the stunning views of Dubai's skyline.
The harbor is also home to several world-class restaurants, cafes, and shops, offering visitors a unique shopping and dining experience. Additionally, Dubai Harbor is conveniently located near some of the city's most popular attractions, including the iconic Burj Khalifa and Dubai Mall.
Overall, Dubai Harbor is a must-visit destination for tourists looking to experience the beauty and excitement of Dubai's coastline.
Dubai JBR Beach:
Dubai JBR, also known as Jumeirah Beach Residence, is a waterfront community that offers a luxurious lifestyle and a variety of activities for tourists. The vibrant area features stunning skyscrapers, golden beaches, world-class restaurants, and shopping destinations. Tourists can enjoy sunbathing, swimming, and various water sports at the JBR Beach, or take a stroll along the scenic Walk at JBR, a palm-lined promenade with numerous cafes and shops.
For thrill-seekers, the Skydive Dubai is a must-visit attraction, offering breathtaking views of Dubai from above. The area also boasts several entertainment venues, including the Dubai Marina Mall and the Roxy Cinemas.
Overall, JBR is an ideal destination for those seeking a fun-filled vacation in Dubai, with plenty of options to keep tourists entertained and captivated.
Looking for an exciting day out in Dubai? Head to JBR Beach and immerse yourself in a world of water sports adventures! From thrilling jet skiing rides to serene paddling on a kayak or stand-up paddleboard, there is something for everyone at JBR Beach. Don't forget your sunscreen and camera – you'll have an unforgettable time at this stunning destination.
●      Jet Skiing: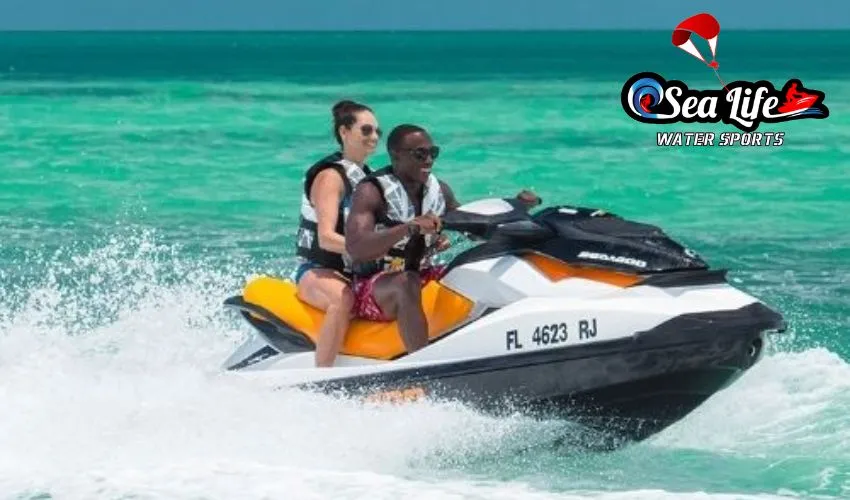 At JBR Beach, jet skiing is a prevalent leisure activity, and rental companies provide jet skis for tourists. This exciting pursuit allows individuals to venture along the coastline and admire Dubai's stunning skyline from a unique perspective.
●      Parasailing: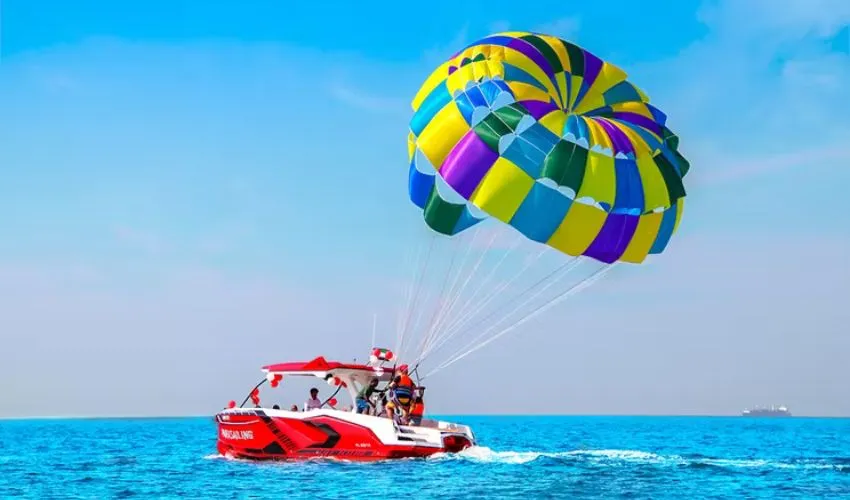 At JBR Beach, tourists can experience an exhilarating activity called parasailing, which offers a unique aerial view of the city. A qualified instructor will accompany the guests, and they will be lifted into the air by a parachute and towed by a boat, providing a thrilling adventure.
●      Flyboarding: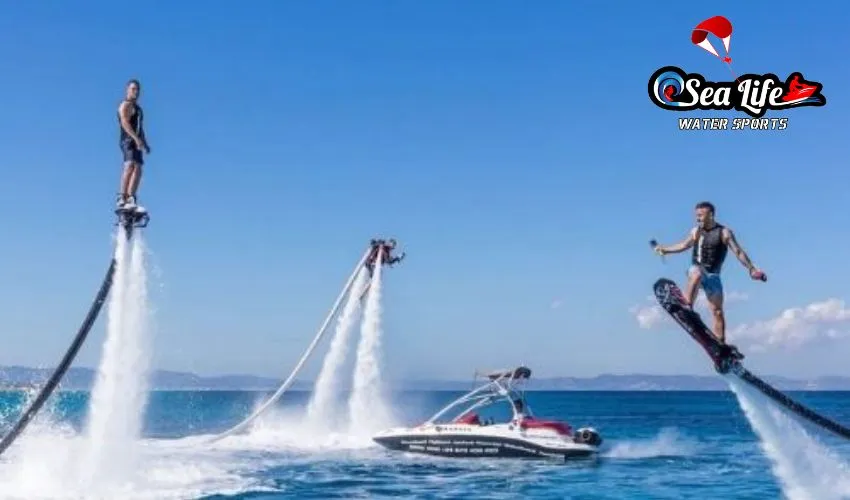 JBR Beach offers a unique and exciting activity known as flyboarding, where visitors can enjoy a thrilling experience. This involves wearing a specially designed board that utilizes water jets to lift the rider into the air, providing an opportunity to perform flips and tricks above the water's surface.
●      Wakeboarding: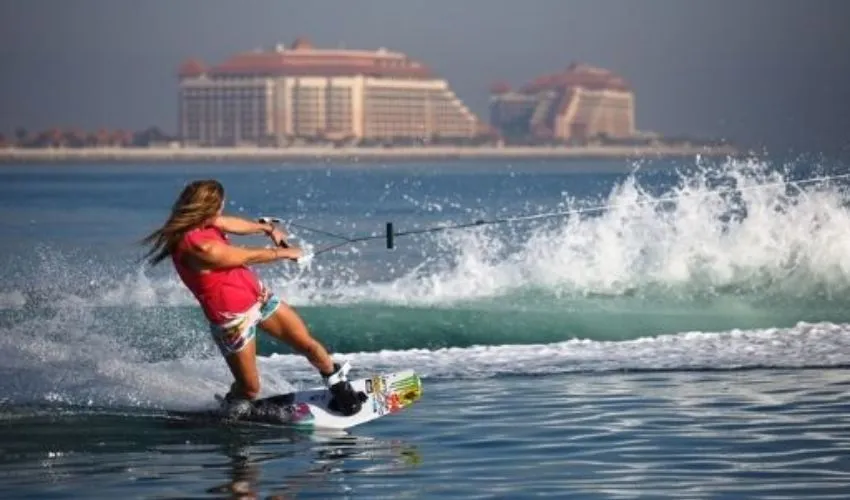 JBR Beach offers visitors the opportunity to engage in the exciting and demanding activity of wakeboarding. This involves riding on a board while being pulled behind a boat, and visitors can rent equipment and receive instruction to enhance their abilities.
●      Stand-up Paddleboarding:
Visitors seeking a more serene activity can enjoy stand-up paddleboarding at JBR Beach. Paddle boards are available for rent, allowing visitors to explore the peaceful waters of the beach leisurely.
Sea Life Dubai takes pride in promoting and supporting water sports activities at JBR Beach. With the aid of professional instructors and high-quality equipment, visitors are guaranteed to have a safe and enjoyable time while also taking in the stunning views of Dubai's coastline.
Skydive Dubai:
Skydive Dubai, situated in the bustling area of Dubai Marina, is the ultimate destination for thrill-seekers seeking an exhilarating experience. Tourists can experience a skydive, soaring over some of Dubai's most famous landmarks, such as the Burj Al Arab and Palm Jumeirah. The attraction offers various skydiving options, including tandem jumps for beginners and advanced training programs for seasoned skydivers. Tandem jumps are an excellent choice for newcomers, as a qualified instructor accompanies and secures you throughout the dive.
Skydive Dubai has an alternative option for indoor skydiving experiences for individuals who want to avoid participating in outdoor adventures. Through a wind tunnel, participants can enjoy the sensation of free-falling without needing a parachute.
The Green Planet Dubai
The Green Planet is a great indoor tropical rainforest in the heart of Dubai, where visitors can immerse themselves in the natural beauty and marvels of the environment. This tourist attraction provides an excellent opportunity for individuals of all ages to gain knowledge about the world's ecosystems and the significance of preserving them. A fascinating experience at The Green Planet is the chance to explore the world's largest indoor artificial and life-supporting tree. The exhibit allows visitors to stroll through the tree's dense foliage and observe the diverse flora and fauna within it.
Dubai Butterfly Garden
The Dubai Butterfly Garden is a stunning tourist attraction in the center of Dubai's Miracle Garden. It provides visitors with an exceptional opportunity to interact with numerous vibrant butterflies from various regions worldwide. The indoor garden abides by over 15,000 butterflies, making it one of the most extensive butterfly gardens globally. A distinctive experience visitors can enjoy at the Dubai Butterfly Garden is the daily release of butterflies into the garden. This is a spectacular moment as the lively and colorful butterflies take to the sky, flooding the garden with splendor and elegance.
Dubai Miracle Garden
The Dubai Miracle Garden is a unique open-air tourist destination situated in the heart of Dubai that allows visitors to witness one of the largest flower gardens in the world. With over 45 million flowers, the garden is an astonishing sight worth visiting. Among the most popular attractions at the Dubai Miracle Garden is the Flower Clock, a gigantic timepiece of more than 5,000 flowers that ranks among the largest worldwide. Visitors can also explore the garden's themed areas, such as the Emirates A380 exhibit, a floral recreation of the world's biggest commercial plane, and the Lost Paradise, a garden filled with hidden treasures and sculptures.
Dubai Marina Mall:
The Dubai Marina Mall is a well-known shopping and entertainment center in the heart of Dubai's vibrant Marina district. This contemporary mall offers many upscale shops, dining options, and entertainment activities, making it an ideal destination for residents and visitors. A standout feature of the Dubai Marina Mall is its prime location. Positioned along the picturesque Dubai Marina waterfront, visitors can take in breathtaking views of the marina and the nearby skyscrapers while shopping and dining. The mall is also conveniently situated near other popular attractions, such as the Dubai Marina Walk and the Jumeirah Beach Residence, making it easily accessible for exploration.
VR Park:
The VR Park is a revolutionary indoor theme park that utilizes the latest virtual reality technology, situated in the Dubai Mall, one of the world's biggest shopping and entertainment complexes. This state-of-the-art park provides visitors with an interactive and all-encompassing virtual reality experience. One of the main attractions of the VR Park is the cutting-edge virtual reality equipment on offer, such as high-quality headsets, motion sensors, and haptic feedback systems that enhance the sensory experience and allow guests to immerse themselves in the virtual world fully.
Dubai Hills Mall:
Dubai Hills Mall, a newly opened shopping destination in Dubai, is situated in the prestigious Dubai Hills Estate community and is expected to draw in locals and tourists alike. In addition to its shopping offerings, the mall serves as a community hub. It provides various services and facilities for the residents of Dubai Hills Estate, including a health and wellness center, a supermarket, and other essential services.
Dubai always impresses with its constant stream of thrilling new attractions. Check out these upcoming attractions to keep on your radar:
Upcoming Attractions in Dubai
Dubai Creek Tower:
The Dubai Creek Tower, which is currently in development, is anticipated to become the world's tallest building, reaching a height of over 1 kilometer. Positioned close to Dubai Creek, it will provide breathtaking panoramic city views to visitors who ascend to its observation deck.
Mars Science City:
Mars Science City is an exclusive attraction in Dubai that provides a sneak peek into the possibility of human life on the red planet. It is a futuristic city spread across an area of 1.9 million square feet, where visitors can experience the simulation of life on Mars with advanced facilities and technologies. The main highlight of this attraction is the Mars Colony, which imitates the living conditions of humans on Mars. The colony includes innovative designs and technologies, such as 3D-printed habitats, hydroponic gardens, and a state-of-the-art airlock system.
Meydan One:
Meydan One has become a highly anticipated destination in Dubai, expected to draw both locals and tourists. Its main attraction is the Meydan One Mall, slated to be one of the world's largest malls, with over 600 retail stores, diverse dining options, and various entertainment offerings. In addition to the mall, Meydan One will feature a 711-meter tower, ranking it among the tallest buildings globally. Visitors can also look forward to other amenities, such as a 1-kilometer indoor ski slope, a beach club, and a modern marina capable of accommodating yachts up to 100 meters long.
The Royal Atlantis Resort:
The Royal Atlantis Resort, a luxurious resort and residential complex, will soon be unveiled in Dubai. It will be located on Palm Jumeirah Island, offering guests an unparalleled experience. Its stunning architecture and design are expected to make it one of Dubai's most coveted destinations. The resort's most impressive attraction is its vast water park with exciting rides and activities. Aside from the water park, the resort will offer a first-class spa, a diverse range of fine dining establishments, and upscale retail stores, ensuring that guests of all tastes are catered to.
Final Thoughts:
Dubai Self Drive Boasts a diverse range of attractions, from the towering observation wheel to the expansive indoor theme park catering to the interests of all. These great tourist spots showcase Dubai's dedication to providing an exceptional experience to its visitors. The city's fusion of old customs and modernity makes it a desirable tourist destination and a sign of advancement and novelty. Get ready to travel and discover the spectacular sights of Dubai's newest and upcoming tourist destinations by embarking on an adventure.
Explore More: https://www.sealifedubai.com/5-off-best-things-you-would-never-like-to-miss-during-your-dubai-vacation/