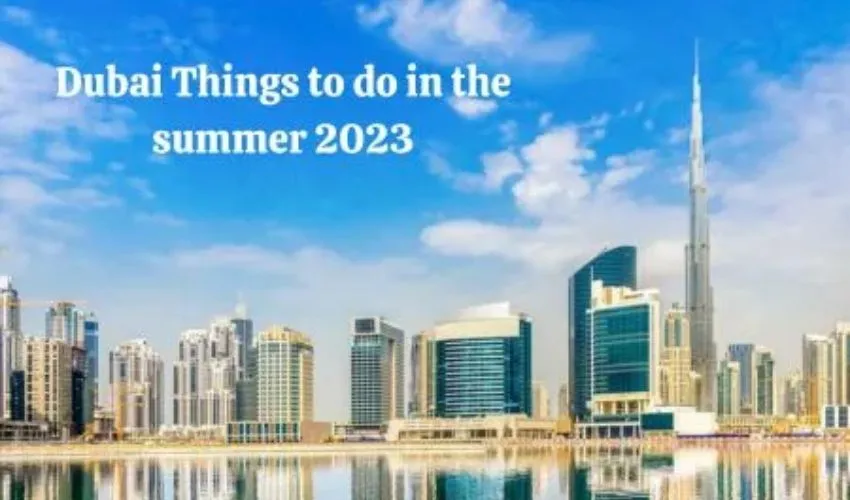 As summer approaches, visiting Dubai promises an experience like no other. With many activities, attractions, and events available, the city caters to diverse interests and ages. Be it an adventure-packed excursion, a serene getaway, or an immersive cultural experience, Dubai has got you covered. The opportunities are infinite, from extravagant shopping and fine dining to picturesque beaches and thrilling water parks. This article will delve into the top Dubai Water Sports to enjoy during the summer of 2023, allowing you to relish your vacation and forge cherished memories. Prepare to embark on an expedition through this vibrant city and relish all its merriment!
Dubai Miracle Garden
The Dubai Miracle Garden, situated in the center of Dubai, is a magnificent outdoor tourist attraction that contains over 45 million flowers, making it the world's largest flower garden. Visitors can enjoy the garden's stunning floral displays in full bloom during the summer months. The garden has various themed areas, including a floral interpretation of the world's largest passenger plane, the Emirates A380. The Dubai Miracle Garden is open year-round, but the ideal time to visit is from October to April when the weather is more enjoyable in Dubai.
Enjoy Dubai Watersports: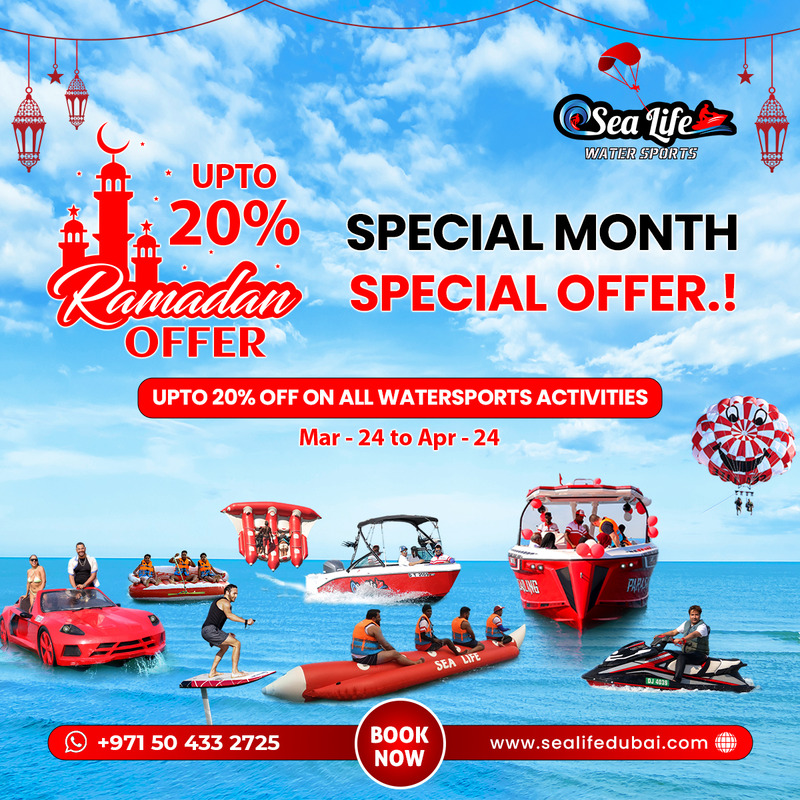 Dubai boasts some of the world's most exquisite beaches, which are ideal to be explored during the summer season. Although it may be too scorching to sunbathe during the day, tourists can relish a refreshing swim in the warm Arabian Gulf waters during the early morning or late evening. The Kite Beach and Jumeirah Beach Residence are some of the favored choices for visitors. Additionally, Dubai is renowned for its outstanding water sports facilities, which offer an excellent opportunity to cool off in the summer months. Here are some of the top recommendations.
● Jet Skiing
Jet skiing is an exhilarating activity that enables you to traverse the Dubai coastline at exhilarating velocities. Multiple organizations offer services for jet ski rental Dubai marina. You can select between guided tours to the city's renowned landmarks or rent a jetski tour dubai for an hour or two and sail independently along the coastline.
● Parasailing
Dubai Parasailing is a frequently enjoyed aquatic activity, providing an electrifying experience and stunning aerial vistas of the city's skyline. Parasailing in Dubai JBR is an ideal pastime for individuals seeking thrills and an exceptional vantage point of Dubai's landmarks.
● Flyboarding
Flyboarding in Dubai is a thrilling water sport that enables you to ascend above the water's surface, akin to a superhero. It requires wearing a distinct board linked to a jet ski through a hose. The water pressure generated by the jet ski propels you into the air, allowing you to soar and execute aerial stunts.
● Speed Boat
Dubai's coastline and clear waters make speed boat rental dubai popular for thrill-seekers. The opportunity to explore the city's iconic landmarks and more secluded beaches and coves from a unique perspective is an amazing experience.
● Efoil Ride
Efoiling is a unique and exciting water sport that has been gaining popularity in Dubai. Efoil rental Dubai activity involves using an electric-powered surfboard equipped with a hydrofoil that lifts the board above the water. This allows you to glide smoothly and silently across the water's surface.
● Banana Ride
If you're seeking a thrilling water activity to experience , try a banana ride in dubai. This well-known and exciting activity involves riding on a large inflatable banana-shaped boat, which is towed by a speedboat, giving you the sensation of bouncing and gliding across the water.
● Water Car (Jet Car)
Water Car Dubai is an exciting and innovative way to explore the city's coastline and landmarks, with increasing popularity among tourists. The tour starts on land, providing a glimpse of the vibrant city before transitioning to the water for a tranquil experience.
Indoor Skydiving
Indoor skydiving has gained immense popularity in Dubai, and there are several locations where you can partake in this exhilarating sport. iFly Dubai is one of Dubai's most well-known indoor skydiving spots in the City Centre of Mirdif Mall. It is an indoor skydiving center that utilizes a vertical wind tunnel to imitate the sensation of freefall. The wind tunnel, a sizable, vertical chamber, produces a robust updraft of air, allowing you to float and soar mid-air, resembling the experience of skydiving from an airplane. At iFly Dubai, you can relish the thrill of skydiving without requiring a parachute or an aircraft. The center furnishes all the essential gear, including a jumpsuit, helmet, and goggles, and you will be given a safety briefing before your flight.
Desert Safari
Dubai's Desert Safari is a prevalent tourist attraction that enables visitors to encounter the allure and excitement of the desert. There are various Desert Safari packages offered by tour operators in Dubai, usually comprising an array of activities such as dune bashing, sandboarding, quad biking, and watching cultural performances like belly dancing. Throughout the tour, you will also be able to appreciate the traditional Arabic culture with shows such as belly dancing, tenora dance, and fire performances. A delectable BBQ dinner, consisting of Arabic delicacies like grilled meat, salads, and desserts, is also served during the tour.
Dubai Aquarium and Underwater Zoo
The Dubai Aquarium and Underwater Zoo, a favored tourist destination, is situated in The Dubai Mall, one of the most extensive shopping malls globally. It houses a diverse range of marine life, comprising over 140 sea creatures such as sharks, rays, and other fish. The principal feature of the Dubai Aquarium is the 10-million-liter tank, one of the most massive suspended aquariums globally. Visitors can enjoy a stroll-through tunnel that extends through the tank, offering a close-up view of marine life. In addition to the aquarium, the attraction also highlights an underwater zoo that showcases distinct aquatic ecosystems, including rocky shores, coral reefs, and rainforests. Visitors can witness various marine creatures up close, such as penguins, otters, crocodiles, and even a colossal octopus.
Explore the Dubai Mall
The Dubai Mall, a massive shopping and entertainment complex, is among the world's largest destinations that provide visitors with a broad range of activities and attractions. It offers everything from luxurious shopping to indoor skiing, making it a comprehensive one-stop destination. In the summer, the mall's numerous air-conditioned indoor spaces make it ideal for visitors to cool off. Besides shopping and entertainment, the mall also features several events and exhibitions throughout the year, such as the Dubai Shopping Festival, held annually in January and February. Additionally, the mall has a cutting-edge cinema complex that screens the latest films and events.
Sunset Cruise:
Sunset cruises in Dubai are a popular leisure activity tourists, and locals enjoy. This activity provides a unique opportunity to witness Dubai's stunning skyline at twilight while sailing on the calm waters of the Arabian Gulf. Several tour operators in Dubai offer sunset cruises, typically for 1 to 2 hours. These cruises usually depart from Dubai Marina or Dubai Creek, and guests are welcomed with refreshments upon boarding the vessel. Some sunset cruises may also feature onboard entertainment, such as traditional Tanoura dance performances or live music, to add to the overall experience. Guests can upgrade their package to include additional activities like swimming, kayaking, or stand-up paddleboarding.
Final Thoughts
To sum up, Dubai's water sports provide diverse options that cater to different preferences, ranging from heart-racing adventures to relaxing coast explorations. If you're seeking an exhilarating way to discover Dubai's picturesque coastline, Sea Life Dubai is your go-to provider of water sports activities in the region. Featuring an array of activities such as jet skiing, flyboarding, banana boat rides, and more, Sea Life Watersports Dubai offers an unparalleled and exciting experience that appeals to both locals and visitors. Don't hesitate any longer; make your reservation today and embark on an unforgettable water sports adventure with Sea Life Dubai.
Must Read: https://www.sealifedubai.com/5-top-notch-adventures-in-dubai-that-would-certainly-give-you-another-level-experiences/
Related Post
Russian Spas in Dubai Dubai, a city known for its stunning architecture, vibrant culture, and luxurious lifestyle, h...
Read More
When you are in Dubai, you will never cease to be amazed. The innovative architecture, lavish lifestyle, and many fami...
Read More