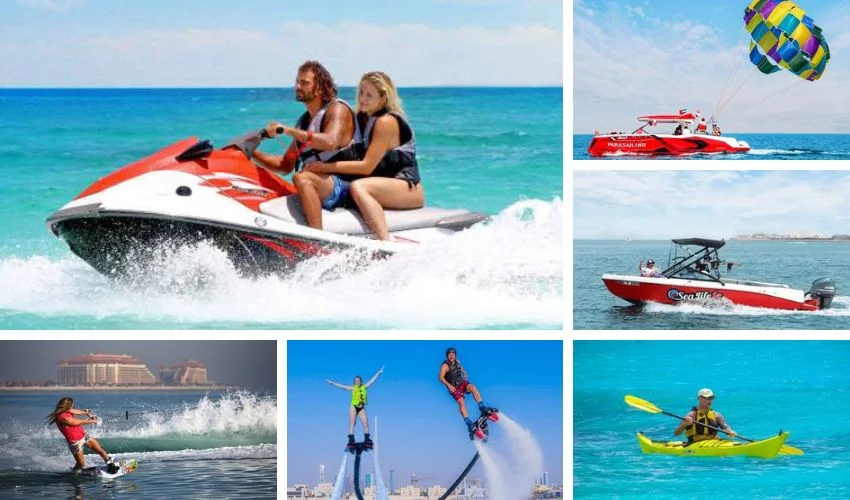 The spectacular landmarks, fantastic nightlife, and enormous dune sea are frequently mentioned while discussing Dubai. This oasis in the Middle East has become a top spot for water and adventure sports in recent years. Dubai draws tourists, travellers, and adventure seekers from all over the world with its beautiful sea line. Extensive coastal infrastructure is on exhibit in Dubai, offering visitors a variety of exciting water activities. Explore a few popular water sports that appeal to amateurs, professionals, and players of all ages as we continue reading.
Jetski Ride
            In addition to being one of the best water activities in Dubai, jet skiing is also one of the most amazing ways to enjoy seeing the city. Enjoy this well-known water activity in Dubai from the Gulf Burj Al Arab and the Persian. On this jet skiing adventure visit, travel swiftly through the ocean near Dubai. It would cost you between 500 and 600 AED to ride a jet ski in Dubai.
Parasailing
            This activity is strapping yourself onto a saddle with a rope on a boat and a parachute toward one side, then ascending very high as the boat takes off. It's a peaceful way to take in some breathtaking views that are up to 300 metres above sea level. You can decide to steer the boat as your pals lift off in the air after you're back on dry land or in the water. Experiencing Dubai parasailing would run you between 400 and 500 AED.
Speed Boat Ride
            An awesome way to get the whole family involved in Dubai's water activities is with a speed boat trip. One of the most well-known water sports on Dubai Jumeirah Beach is the speedboat, which takes you on a tour of the Dubai oceanfront. The speedboat is a safe activity where up to 4 family members can participate together, providing an amazing shared experience that you will cherish forever! You will see the most significant landmarks in the city throughout the visit, and you will also take some amazing pictures. Depending on the length, a speed boat ride typically costs between 160 and 320 AED.
Flyboarding
            Flyboarding is synonymous with phrases like high adrenaline, fast movement, and stumbles. Fly spouts shoot forth water with incredible force, propelling you up to 15 metres as you fasten your feet to a board and take off through the air. With some practice, you'll be able to gently float above the water, and if you keep at it, you might find yourself flipping backwards like James Bond during a tomfoolery. Normally, flyboarding costs in Dubai between 250 and 300 AED.
Wakeboarding
            It doesn't seem fair to discuss water sports without mentioning wakeboarding. Wakeboarding is an aquatic pastime that involves manoeuvring past a wakeboard and using cunning during the underlying lift; yet, once you're out of the water, it quickly proves to be reasonably practical. The key to wakeboarding like a pro is to slightly recline while maintaining a straight stance. Riding a wakeboard in Dubai will set you back roughly 300 AED.
Fly Fish Ride
            Prepare for a good time by getting over an inflatable raft in the shape of an E that can hold up to 5 people. Experience the thrills of flying high up, swinging sideways, and arriving with a delightful spray on the water on this 15-minute ride that requires no prior knowledge and is safe for groups of (at least) two people. This ride delivers enjoyment unlike any other with the extra fascination of providing a view of the beautiful Dubai skyline! Life jackets and a brief safety lecture from the instructor are also provided during the ride. Around 180 AED will get you a fly fish ride.
Kayak Tour
            A kayak tour is both educational and entertaining. Running on the water is enjoyable whether done alone or with a friend. This completely secure journey also enables you to take in the captivating vistas along Dubai's coastline. Additionally, kayaking allows you to witness some of the city's wildlife. You can access unusual locations with the kayak that are typically inaccessible to larger boats. For this one to a three-hour excursion, swimming is a requirement. A kayak tour lasts from one to three hours and costs between 100 and 150 AED.
These are just a handful of the water sports and adventure activities that will make your trip to the Dubai coastline enjoyable and provide you with a special experience. With Sea Life Watersports Dubai, you can elevate this experience. It provides its services at the Dubai Marina for a variety of water activities at affordable rates with an excellent team of instructors, trainers, and ride partners.
Suggested Read: https://www.sealifedubai.com/top-water-sports-destinations-in-dubai/