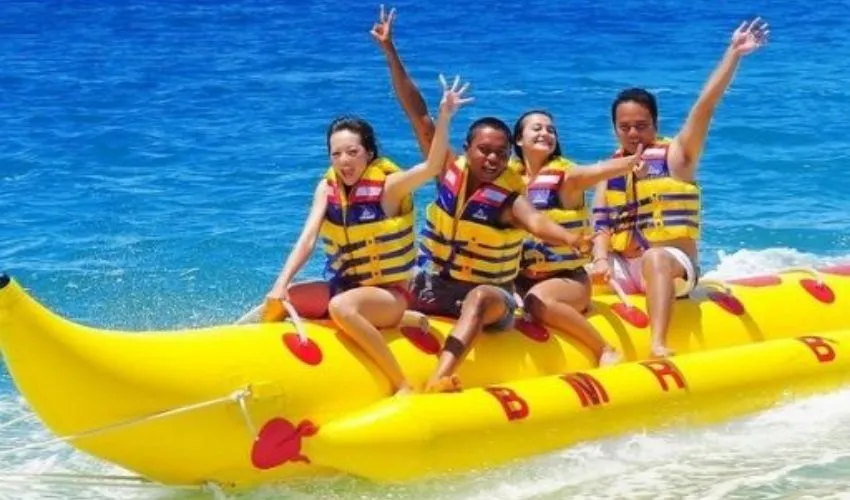 A number of people swarm in Dubai every year to experience the luxurious shopping destinations, marvelous architecture and exhilarating nightlife of Dubai. Dubai is enriched with ultra-modern life architectural buildings including the Burj Khalifa, an 830-m-long tower. Along with the spectacular architecture, Dubai seems to be the most favorable destination for people fond of adventure in the water. Apart from providing the tranquil beauty of sea, Dubai provides the best water sports experiences to its visitors. A large number of water sports are delivered by Dubai among which Banana boat riding is quite popular with tourists. Adventurous water sports like parasailing, jet ski, speedboat, donut ride, flyfish and many others are provided by Sea life Dubai to the visitors and residents of Dubai. Sea life Dubai has been becoming a reliable partner of tourists and provides the best possible marine experiences. Banana boat ride in Dubai is undoubtedly a unique experience, or rather say a precious gift for the adventure lovers.
Take an exciting experience with our Banana boat ride
Banana boat ride provides a thrilling as well as fun experience over a banana-shaped boat driven by an engine. Safety is our primary concern to us; therefore, we provide professional trainers to guide you and ensure all the safety measures all along the journey. The captains of the boats are also well-trained to confirm the safest journey. You can avail this exciting riding experience with your families. Sea life Watersports Dubai has designed the banana boat ride experience for both kids and adults. The most interesting part of banana boat riding can be felt at the time it gets into the deep water gradually from the sea surface. In addition to the full enjoyment, our banana boat ride will take contribution to strengthen your body muscles and boosting your stamina while running through the water over the boat. The boats are well designed and hold a capacity to retain 5 people together over it. A minimum number of 4 people are required to enjoy the banana boat riding by us.
Rules and Recommendations for you
Dress code
In order to dive into the banana boat adventure by Sea life Watersports Dubai, you need to adorn yourself with bathing attire. Anti UV top or t-shirt is suggested with a hat and sunglass. We recommend you must wear a thick layer of sunscreen to evade the adverse effects of direct sunlight.
Waterproof gadgets
We strongly recommend you carry waterproof cameras and phones. Otherwise, you can submit them to your friends and family members before taking the ride.
Rules for children
Sea life Dubai does not allow children above 6 years of age. For safety purposes, we allow children below 18 years and above 10 years only with the company of their parents or other adults.
Price and duration
We provide two alternatives to our customers in regards to the duration of the banana boat ride accompanied by us. You can take several rounds as per your choice.
30 minutes for 5 persons charges 450 AED
60 minutes for 5 persons charges 900 AED
Contact
You can call or WhatsApp for booking and more details at 971 50 433 2725.
For a direct visit to our office, you need to come: Al Zarooni Building, Al Murar, Dubai, Po box- 390908
Our activity address: Dubai, Marina Harbour, Dock n: BC-2, Dubai, UAE.
Need to remember All of our activities are conducted by trained professionals under safety measurements. All kinds of fun and adventurous water activities are executed in a clear environment.
Explore More: https://www.sealifedubai.com/how-to-obtain-the-most-out-of-your-banana-boat-ride-to-the-fullest/
Related Post
Water sports are fantastic for recreational activities with your friends and families. A banana boat ride is a fun, enj...
Read More