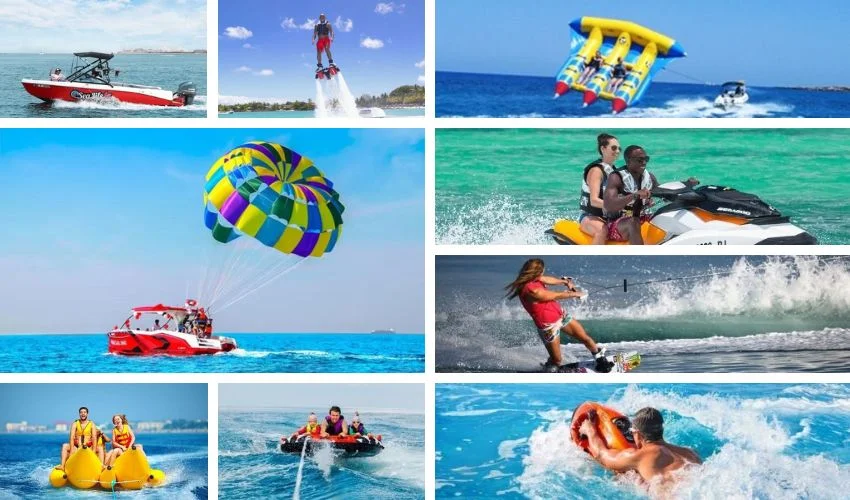 Dubai is one of the world-renowned cities famous for its vibrance and aura. This emirate has a plethora of shopping avenues, excellent nightlife, restaurants, cafes, and spectacular tourist attractions—tourists from all over the globe flock in numbers to visit this fantastic city. The sea beaches in Dubai are as lively as the city centres. Dubai seafronts offer one of the cleanest and most serene sea beaches globally.
Off-late Dubai is on top of the water and adventure sports lovers' list. This city has an elaborate coastline of 50 km with numerous beaches supporting a horde of water sports. Visitors arrive at the beaches to beat the summer heat and receive a breathtaking experience. Nothing can stop you from having a stimulating water sports experience with the best-in-class paraphernalia and expert guides.
Irrespective of age, experience, and expertise with water sports, Dubai beaches do not fail to appeal to visitors worldwide. Read on and explore the water sports you can relish on the Dubai beaches.
Going the Sea Life Dubai Way
Sea life Dubai is one of the most exciting water sports and activities providers. They specialise in most water sports that are bound to guarantee an ecstatic experience with adequate guidance and support. Get ready to have your fill of adventure with sea life Dubai with safety and security at its heart.
Please go through the following prominent water sports and activities on offer and learn what to get ready to relish them.    
Speed Boat Ride
Want to have a fantastic time with your family? A speed boat ride is an excellent way of getting started with adventure water sports. You may begin with a tour of the Dubai beachfront with your loved ones. This boat ride is a safe sport that offers a playful experience for you and your family. You take a tour of the entire city with ease with this ride.
Jet Ski Ride
          A jet ski ride offers you a one-punch combination of raw mechanical power with the rush of breaking sea waves. The excitement of riding a jet ski is evident in tourists who take this ride. However, a few practice rides are advisable to make the most out of a jet ski ride. Water sport rental providers offer jet ski rides at reasonable prices, making this ride even more accessible.
Parasailing
Not all of us like to go overboard with enjoying water sports. Parasailing is a sport to cherish for those who wish to start small and experience more thrilling water activities. The experience of latching onto a parachute attached to a speed boat and soaring above the sealine to get a bird's-eye view of Dubai is impressive. The moment the parachute starts to soar up from the water surface when the boat speeds up is a thrilling experience.
Flyboarding
          Want to have the feeling of a superhero with flight powers? Flyboard can give you a momentary hang of superpower. This water sport is a great activity that propels you to a great height while standing firm on a jetpack powered by a motor. Familiarisation with the equipment with an instructor will help you with an excellent flyboarding experience. With a bit of experience with this sport, feeling like a superhero is always on the cards.
Flyfish
          Flyfishing is an exciting water sport that is interesting and fun. This water sport is quite popular and in demand among tourists and visitors. The setup for this water activity is as simple as an inflatable guided by a speedboat. Get strapped onto an E-shaped inflatable securely to a speedboat and feel like a dolphin swimming and flying on the water's surface. This sport can give you the feeling of a fish swimming and fly over the sea. Feel the wind on your face while you go on a fly fish ride.
Wakeboarding
          Wakeboarding is a great sport to take up once you feel you have mastered water skiing. This sport is slightly more daunting than water skiing, as channelling over water surfaces has its excitement. Wakeboarding is similar to skateboarding, in which the participant straps both legs to a board while a speedboat pulls it. You can get innovative and experimental with wakeboarding by performing a few stunts or acrobatic moves. As a word of caution, ensure the board quality before you begin the sport. 
Seabob Jet Driving
          Seabob jet driving is a mighty water sport that needs skill and endurance at similar levels to make the most out of it. The driver needs proper training and skills to ensure safety and agility while the ride progresses. This activity breaks the boundary of dynamism and fascination in style and guile. Feel the agility and intensity of shallow underwater driving with seabob jet driving.
Doughnut Ride
          We all love doughnuts as food, but as a water sport, a donut ride is as enticing as any other water sport. This ride offers twists, turns, spins, and splashes while you brace over an inflatable doughnut tube pulled by a speedboat. Rest yourself on the doughnut and enjoy the ride. Make sure to convey to the speed boat rider the speed and impact with water you are comfortable with to ensure a great ride.
Banana Boat Ride
          Try out the banana boat ride if you are looking for a water sport or activity that can collectively thrill you and your group. As the name suggests, you and your family or friends get to sit on a banana-shaped inflatable while pulled by a speedboat. Just hold on to the typical harness from the speed boat with your co-riders and get set to explore the sealine with a banana boat ride.
These water sports are a great way of enjoyment and experience that can excite and help your retreat from daily hustles. Sea life Dubai has the crew, personnel, and equipment to help you get the most out of these water sports in terms of quality and value for your time. Have a blast with water sports with sea life Dubai as your companion.
Also Read: https://www.sealifedubai.com/top-water-sports-destinations-in-dubai/