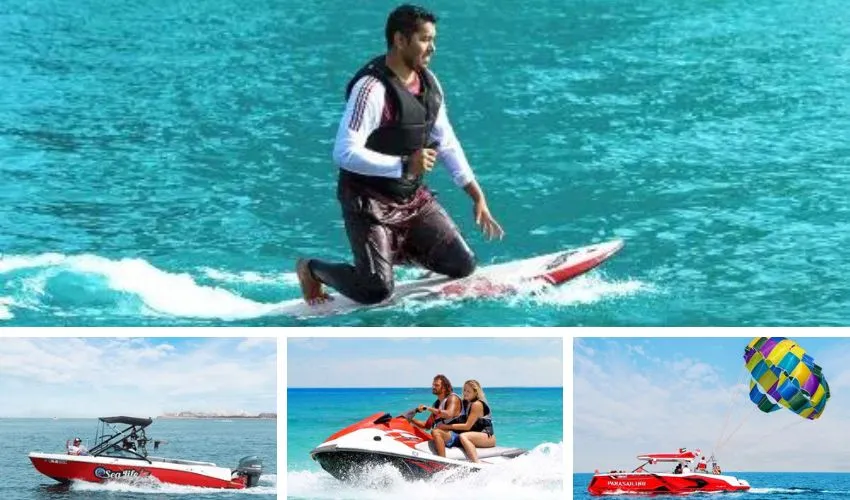 When we speak of Dubai, we often talk about the magnificent landmarks, glorious nightlife, and giant dune sea. In recent years, this middle-eastern paradise has emerged as an excellent destination for water and adventure sports. With an exquisite sea line on offer, Dubai attracts tourists, visitors and adventure enthusiasts from all around the globe. Dubai has elaborate coastal facilities on display that provides tourists with a wide range of stimulating water activities. Let's read along and explore a few prominent water sports that draw in beginners, intermediate, and expert participants in all age groups.
Jet Ski Ride
Jet skiing in Dubai isn't only one of the top experience water sports in Dubai; it is likewise one of the most remarkable ways of getting a charge out of touring in Dubai. Enjoy this renowned water sport of Dubai from the Persian, including Gulf Burj Al Arab. Wander the ocean close to Dubai with speed on this jet skiing experience visit. A jet ski ride would cost you around 500-600 AED.
Parasailing
This sport includes securing yourself into a saddle with a parachute toward one side and a rope on a boat before ascending very high as the boat dashes off. It's a tranquil approach to taking in a few staggering perspectives, up to 300 meters above ocean level. When back on the ground or in the water, you can commit and assume control over the wheel to guide the boat as your friends take off overhead. A parasailing ride experience would cost you around 400-500 AED.
Speed Boat Ride
A speed boat ride is an excellent approach to including the whole family to experience water activities in Dubai. The speedboat takes you on a visit through the Dubai ocean front and is one of the most well-known water sports on Dubai Jumeirah Beach. The speedboat is a protected movement where up to 4 family members can partake together, offering a remarkable common encounter that you can esteem for eternity!
The visit takes you through the city's top milestones and will get you a few extraordinary photos. The typical price of a speed boat ride would vary between 160-320 AED depending on the duration.
Flyboarding
High adrenaline, quick-moving and stumbles are a few expressions that go hand-in-hand with flyboarding. Strap your feet onto a board and take off through the air as fly spouts force water out at colossal power, sending you up to 15 meters. With some training, you'll have the option to float tenderly over the water, and on the off chance that you continue, you could be reverse flipping your direction to a tomfoolery, just like James Bond. Flyboarding typically costs in the range of 250-300 AED.
Wakeboarding
Talking about water sports and not talking about wakeboarding does not seem fair. Wakeboarding is a water activity that includes moving past a wakeboard and utilising craftiness during the underlying lift; however, before long turns out to be effectively reasonable once you're out of the water. The way to wakeboarding like an ace is to recline marginally and keep a straight stance on the board. Wakeboarding rides will cost you about 300 AED.
Fly Fish Ride
Get over an E-shaped inflatable raft that can accommodate up to 5 individuals and plan for a great time! This ride, which goes on for 15 minutes, requires no related knowledge and is protected — considered ideal for gatherings of (at least 2); experience the adventures of flying high up, swinging sideways, and arriving with a sweet sprinkle on the water. This ride offers fun like no other and the additional fascination of getting a perspective on the staggering Dubai horizon! The ride also includes life jackets and a short instructor briefing on safety. A fly fish ride costs you around 180 AED.
Kayak Tour
A kayak tour is both a learning and an engaging encounter. Whether running alone or with a companion, kayaking is pleasurable water activity. This 100 per cent safe movement likewise permits you to observe the enrapturing sights along the shore of Dubai. Furthermore, kayaking lets you see a portion of the city's fauna. The kayak allows you to go into unconventional spots commonly unapproachable by bigger boats. Swimming is mandatory for this tour, which lasts between 1 to 3 hours. A kayak tour costs around 100-150 AED for durations ranging from 1-3 hours.
Deep-Sea Fishing
If you enjoy catching your fish on your own, then deep-sea fishing will interest you. All you need to do is ride into the deep-sea and try your hands on seeing a few exotic fish varieties and cooking them on the boat. Deep-sea fishing costs around 2500-3000 AED for a group of 5 people on a 4-5 hours trip.
These are a few water sports and adventure activities that can make your Dubai coastline visit pleasurable and bestow a memorable experience. Take this experience to the next level with Sea Life Watersports Dubai. It offers its services at the Dubai Marina for various water sports at reasonable prices with a great crew of trainers, instructors and rides companions. 
Suggested Read: https://www.sealifedubai.com/the-ultimate-guide-to-water-sports-in-dubai/